Roof Repairs in Utah
The mystery of the hole in the roof is a common whodunit for many property owners.
Sometimes a tree or a bolt of lightning decides to bless your home with unwanted "air ducts." In these cases, we can be of great use to you and will make efforts to expedite repair work for the sake of cost savings. However, the most common cause for lack of structural integrity with a roof is typically age.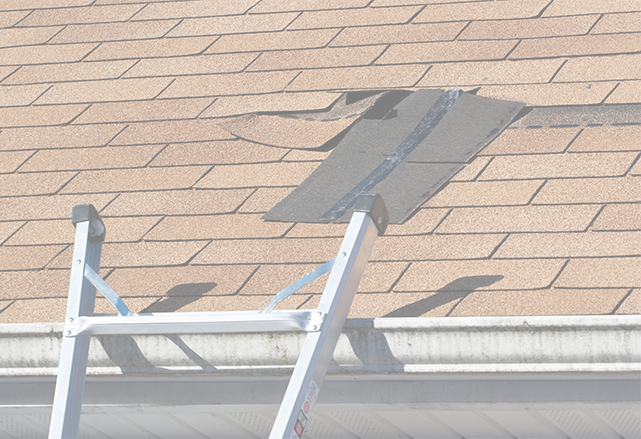 Some of the major advantages of working with us on your roof repairs are our thirty years of experience and our Straightforward PricingTM. We know how to check the full extent of the damage to your roof, and will take pictures so you don't have to climb up to see the damage for yourself. While our team assesses the damage we'll leave you with a Straightforward Pricing Guide so you can understand the costs before work ever begins. Another factor that makes our repair work superior is the quality of materials that we are using. While other contractors will often skimp on the longevity of materials, we prefer to make something that lasts.
The best way to safeguard your roof from damage and extend its life is through regular maintenance such as cleaning the gutters and inspecting the shingles. Members of our Care Club enjoy the peace of mind knowing their annual roof maintenance will be taken care of without them ever setting foot on the roof for your roof repairs.
It is often said that you can instantly spot the pride and integrity of a business by perusing examples of their work. As you look at images from our website, a level of quality craftsmanship should shine through – that holds up a mirror to our standards.
Having a roof that will protect you from the elements and many other things is invaluable. When a huge rainstorm hits, your roof is the key element that helps to keep you and your property safe. Kanga Roof provides you with annual maintenance and roof repairs to ensure you do have a safe and sound roof.
Maintaining a Roof
There are some basic things that you can do to your roof in order to increase its lifespan and to ensure that you and your loved ones will be safe. Some simple maintenance of your roof will go a long way in protecting your home. It is a good idea to learn how to check your roof for loose shingles and to learn how to add new ones to the roof. If you are unable to climb on the roof or you simply do not feel comfortable doing so, hire a roofing company to come out and perform a maintenance check-up. They will examine the roof for soft spots and loose shingles and other issues.
Cleaning the Roof
In the fall, it is common to have leaves and other things that really collect in the gutter system of your roof. You need to use a ladder to reach up on the roof so you can clean out the gutters. A power washer is a good idea to use as it will help you to blast out the excess mud and debris that can become trapped in the gutter. Power washing the roof is another good idea as dirt will collect on the shingles from the rain and wind storms.
Roof Repairs – Sealing Cracks
If you do end up detecting some of the small cracks that can lead to serious problems, contact your roofer immediately. We will come out and examine the extent of the damage and if it can be repaired. Roof repairs are dangerous, we recommend contacting our Ogden roofing contractor today to schedule a free roof inspection for your roof repair.